Swedish Falcon: Billings Skyview exchange student plays amerikansk fotboll with joy | High School Football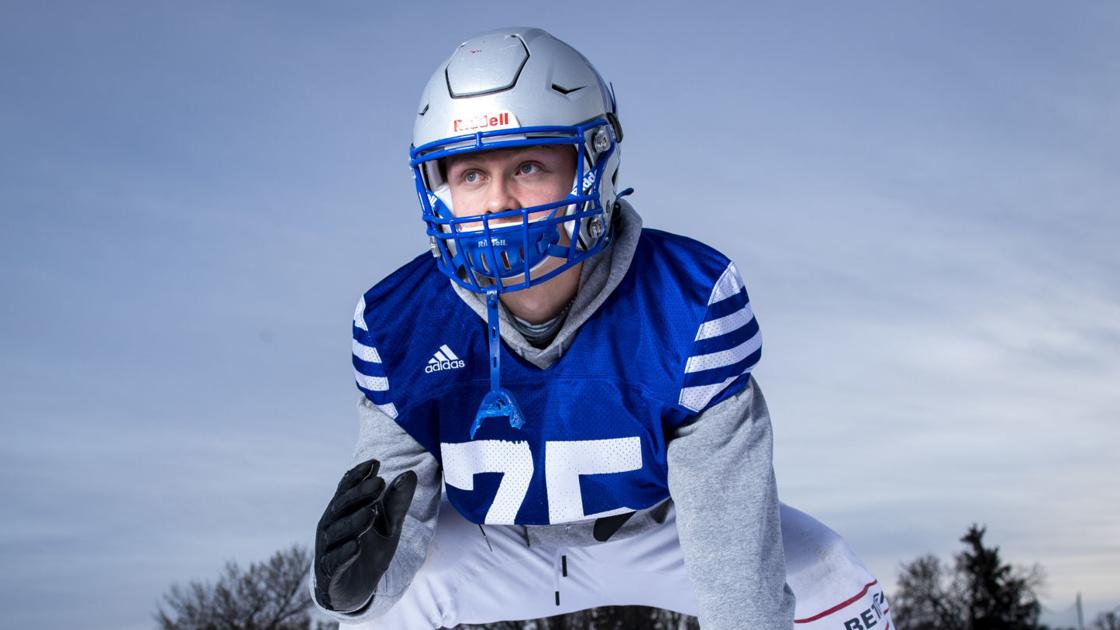 BILLINGS — Playing amerikansk fotboll, in America, no less, has been a revelation for Pontus Bjarevall. The same can be said about him.
He's been playing the sport for seven years in his native Sweden, and in so doing he's traveled near and far from his hometown of Tyresö, a suburb of Stockholm home to about 50,000 people. He's played in Florida (twice), Germany, Finland and Denmark.
But opening night of the 2020 high school football season was something else. He didn't get to suit up in that first game — as a late-arriving foreign-exchange student, Bjarevall hadn't yet participated in the requisite 10 practices needed to be eligible for Billings Skyview — and the Falcons, after scoring the game's first points, lost 62-7 to Billings West.
Bjarevall had been warned by his teammates that the atmosphere for games this season might be "lame." As we all know, due to the novel coronavirus and the worldwide pandemic, spectators to high school sporting events were severely limited in efforts to halt the spread of COVID-19, and Skyview's opening game was no exception.
As Bjarevall found out, though, one person's lame is another's thrill. Mostly empty they may have been, but Wendy's Field at Daylis Stadium had large grandstands, goal posts and an aura, elements largely missing from the football fields Bjarevall was accustomed to playing on for his club team Tyresö Royal Crowns.
"This is the first football field where, like, I've seen a high school game and it was just something like a movie," Bjarevall said earlier this week at Daylis as the Falcons readied for practice ahead of Friday's playoff game at Great Falls. "Almost like 'Friday Night Lights.' It was so cool."
Bjarevall's lingering enthusiasm for that first authentic experience several weeks ago is not lost on the listener. It'd be easy to infer that Bjarevall was awe-struck that night. Instead, what seems to come across is pure joy, especially the longer one talks to him.
A smile never left his face, and it was difficult to keep track of the number of times he said "I just love football" in his fluent English.
"The biggest thing that stood out to me is for a kid from out of the country, during a pandemic, he's been just such a pleasure to join this team," Skyview football coach Nathan Wahl said. "It's been a blast to teach him the game and it's been a blast to watch him embrace the game the way he has. It's been a lot more than that, what he's meant to us."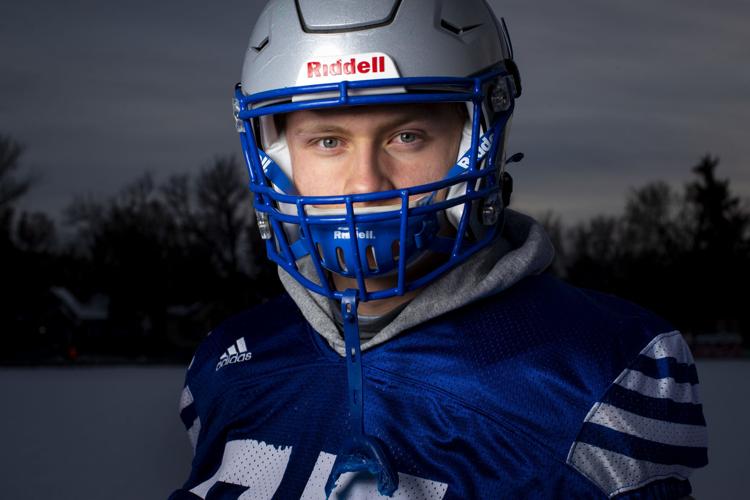 Bjarevall's father, Fredrik, was an exchange student at Huntley Project and stayed with the Ezra Grantham family, graduating in 1988. The two families remained in touch, and when it was Pontus' turn to follow in his father's footsteps, Ezra's daughter Kelli, who lives in the Heights, said she'd be glad to host Pontus.
The Granthams have a ranch, and Bjarevall has spent time out there, as well, working cattle and helping with other duties. But, right now, it's football first and foremost.
Like many European nations, Sweden's sports are operated through a club system, not the high schools, and Bjarevall started playing with the Royal Crowns on their U13 team. Always bigger than kids his age — Bjarevall is listed as 6-foot-6, 210 pounds on the Skyview roster — he couldn't find a sport to fit him. He tried hockey. Nope. Someone suggested rugby, even though rugby teams are hard to come by in Sweden.
That suggestion made him think of American football, and he gave it a try.
"From the first practice, I loved it," he said.
American football is growing in Sweden, but still a niche sport. NFL games can be found on television, but you have to pay for an extra channel to get it, Bjarevall said. He's a fan of the Green Bay Packers and, sometimes, the Houston Texans.
Bjarevall has been starting for the Falcons as a stötande linjeman (offensive lineman) since the second game of the season when he became eligible. Lately, he's worked his way on to the defensive line as well, and had a sack and quarterback hurry or two in the Falcons' win over Belgrade last week.
Wahl said Bjarevall's football instincts are as good as any other player who's been in the game for seven years, and that the Swede brings something that every coach loves to see. Wahl singled out a play against Billings Senior when Falcons' running back Payton Sanders, one of the swiftest players on the team, broke a long gain.
At the end of the 60-yard dash, Bjarevall was right there with Sanders.
"You talk about effort," Wahl said. "(Bjarevall) was backside. We ran that play to the right, and he ran 60 yards to just finish the play with another big block at the end. That kind of effort, I don't know, you can't really teach it."
What can you say? He just loves football.
When Bjarevall, who is 18 years old, returns to Sweden, he'll have one season left of football. The club has teams up to the U19 level and after that, who knows? Bjarevall said he's willing to work hard enough but that he wouldn't be able to pay his own way to play football collegiately in the United States. But if a scholarship came his way, he'd certainly take it into consideration.
For now, he's just living in the moment, riding out his own version of "Friday Night Lights," thankful for every minute of it. He remembers flying across the country to Montana, seeing from high in the air the football fields that dot the country, looking at them with wonder.
"The reason I'm here is just for the experience, really," he said. "So, I don't really care about the scoreboard because if we lose by 100 points and I had a great time, I still see it as a win. Just seeing how high school football could be, it was really cool."
Bjarevall has been struck by how friendly people have been. "Unnecessarily friendly," he said, doing things like paying for his meals.
Maybe, though, he's an example of you get as good as you give. The joy Bjarevall seems to have for everything, but talking and playing amerikansk fotboll in particular, can be infectious.
"I'm really excited to see the U.S. and Billings and Montana, really, and people are really excited to show me it," he said. "So I've really got into a great place here, and I'm looking forward to my next eight months."
Friday Night Lights
Here's a glance at some area playoff games this weekend:
Friday
Billings Skyview (3-4) at Great Falls (3-3), 7 p.m.: Skyview's defense will have to tighten up if the Falcons are to earn their first postseason win since 2013. Great Falls defeated the Falcons 34-6 two weeks ago, when Bison quarterback Reed Harris threw three touchdown passes to Levi Torgerson, who caught six passes for 158 yards. Ryan Krahe rushed for 121 yards and two scores for the Bison.
Frenchtown (7-2, No. 5 Class A) at Laurel (5-1, No. 4), 6 p.m.: After losing twice to Miles City last season, including in the State A title game, Laurel handled the Cowboys (who were No. 5 in the 406mtsports.com Class A rankings at the time) 21-0 last week to clinch the East's second playoff seed. Frenchtown was not far away from earning West's top or second seed — the Broncs lost to now-No. 3 Dillon 20-13 in the first week, and they fell to top-ranked Hamilton 21-6 on Sept. 25.
Saturday
Columbia Falls (5-3) at Billings Central (5-0, No. 2 Class A), 1 p.m., at Lockwood Stadium: Both teams took last week off because their scheduled regular season finales (Columbia Falls at Butte Central, Billings Central at Havre) were canceled due to COVID-19. The Rams' last game was an Eastern A-clinching 42-0 win over Miles City on Oct. 16. Columbia Falls lost to Frenchtown 28-21 the same day, a couple weeks after a 35-7 loss to Hamilton. The Wildcats' other loss was 21-7 at Whitefish on Sept. 11.
Columbus (4-4) at Red Lodge (5-2, No. 10 Class B), 1 p.m.: Red Lodge hosted Columbus on Sept. 4 and lost 60-42. The Rams have been the more successful team since, losing only to Huntley Project 33-27 on Sept. 25. They beat now-No. 3 Fairfield 28-20 on Oct. 9 and then-No. 10 Shepherd 40-14 last week to earn the Eastern B's top playoff seed. The Cougars followed up their win at Red Lodge with a 20-18 defeat to Jefferson, and each of their other three losses (to now-No. 1 Manhattan, Whitehall and No. 5 Townsend) were by at least 21 points.
Whitehall (5-2) at Shepherd (4-3), 1 p.m.: Shepherd's 26-point loss to Red Lodge last week would have been more costly if the margin was 11 points or fewer. The Eastern B's "Taylor Points" tiebreaker gave Red Lodge the top seed with a win of at least 12 points, with Shepherd getting the second seed and Huntley Project finishing third. An 11-point loss or smaller would have dropped Shepherd to No. 3. Whitehall's two losses came against Townsend (31-13) and Manhattan (42-0).
Huntley Project (3-1, No. 9 Class B) at Townsend (6-2, No. 5), 1 p.m.: Project has not played since Oct. 2 because its last three scheduled opponents have made COVID-related cancellations. Some unlucky tiebreaker math and a season-opening 7-6 loss at Shepherd has forced to Red Devils to end their four-week hiatus with a tough first-round playoff game. Townsend has rolled since its season-opening 57-20 loss at now-No. 8 Bigfork. The Bulldogs earned two-score-or-more wins over now-No. 7 Eureka, Whitehall and (last week) Columbus. Even their second loss was respectable: 29-14 at Manhattan on Oct. 16.
Westby-Grenora (7-1, No. 6 8-Man) at Joliet (6-1, No. 9), 1 p.m.: Westby-Grenora, which moved up from 6-Man before the season, secured the Eastern 8-Man's third playoff seed with a 34-8 win at Ekalaka last week. A 46-42 loss at now-No. 8 Park City is the only reason Joliet did not finish with the Southern B's top seed.
Harlowton-Ryegate (6-1, No. 8 6-Man) at Froid-Lake (7-0, No. 3), 1 p.m.: Harlowton-Ryegate advanced to the state quarterfinals with a 38-14 win over Noxon last week. In its first playoff game in 14 years, Froid-Lake destroyed Broadview-Lavina 56-6. The Red Hawks now have a point differential of 437-101 this season.
Bridger (6-1, No. 9 6-Man) at Big Sandy (6-0, No. 1), 1 p.m.: Bridger won a first-round thriller last week, 41-38 at No. 7 Hot Springs. The Scouts will "only" have to travel about 300 miles this week (420 last week), but the opponent is tougher. Big Sandy has outscored its opponents 334-95 this season following a 57-6 win over Wibaux last week.
Power-Dutton-Brady (4-1, No. 5 6-Man) at Shields Valley (8-0, No. 2), 1 p.m.: Big Sandy's closest win was also Power-Dutton-Brady's only loss: 46-29 on Oct. 9 at Big Sandy. The Titans opened the playoffs with a 46-15 win over Denton-Geyser-Stanford last week, while Shields Valley edged Richey-Lambert 27-16.
Victor Flores contributed to this report.